Charity of the Month
A portion of every new vehicle sale is put directly back into the local community through a monthly charity donation. Every month we will donate $2000… any additional money we raise through our new vehicle sales will be donated during the holiday season when charities need it the most.
HOW IT WORKS:
This year we are asking for your help to partner with 12+ organizations. Each month you can help us select a worthy charity in our community and we will donate $2,000.00.
HOW CAN I HELP:
Please take a moment and vote for your favorite organization and please help by nominating one for next month. Each organization can win once per year but can be nominated multiple months before winning. Be sure to let the organization know you nominated them and share this page on social media.
---
COVID-19 CRISIS UPDATE:
We are still OPEN and we appreciate all our local charities and non-profits. However, like most businesses right now we have to make painful program cuts. Effective 4/1/2020, our Charity of the Month Program is temporarily suspended. 
Please stay at home as much as possible and stay safe.
Winning nominations from March will move into the voting finals upon the restart of the program in June. This page will be updated at that time. Please forward all questions to our Marketing Director, Jerry Thrasher – jthrasher@findlayauto.com
---
Here are the winning nominations from February 2020;

Idaho Black Bear Rehab (IBBR) is building compassion, protection, and ownership for the welfare of bears by developing successful methods and practices for bear rehab which they share with wildlife agencies, organizations working to save threatened bear species, and individuals who care about bears and their environment. They work with other bear rehabilitators by sharing information and the stories from IBBR at conferences and symposiums. The draft model methods and practices for the rehabilitation of black bears that can be adopted by states across the U.S. as a part of their wildlife agency bear management plans. http://www.bearrehab.org/ (Vote Below)
---
The mission of All Heart Infusion is to provide the full continuum of care (body, mind, and spirit) for people of all ages and stages of life, educating, inspiring and empowering them to be their own advocate and live the fullest life possible.
Their vision is to provide patients and families with compassionate, individualized care, no matter their ability to pay while going beyond treatment standards and striving to improve their quality of life and spirit. We lead with our heart, we care with our heart because we are All Heart Infusion.  https://www.allheartinfusion.org/ (Vote Below)
---
Together we can bring Support & Hope to the Foster Care Community.
We partner with foster parents, social workers, and YOU to provide support and resources to some of the most vulnerable young members of our community. We do this through community engagement and events, Journey Bags filled with essentials for kids in or coming into foster care, and by meeting the needs of foster children and those involved with caring for them.  https://www.villageofhopecda.com/  (Vote Below)
---
---
Help us decide. Who is your favorite?
Please Vote for Findlay Charity of the Month for March
Idaho Black Bear Rehab, Inc. 59%, 250 votes

250 votes 59%

59% of all votes

Village of Hope CDA 33%, 140 votes

140 votes 33%

33% of all votes

All Heart Infusion 8%, 34 votes

34 votes 8%

8% of all votes
Total Votes: 424
March 3, 2020
March 31, 2020
Voting is closed
Please note:
Voting results are calculated by third-party software. These votes are tracked by the device, not an email address. One vote per month, per device. A home computer, work computer, smartphone, and tablet would each qualify as separate devices.  The option to revote has been removed to reduce confusion. Any organization violating the one vote per month, per device policy or manipulating results in an unethical manner will be banned from the voting platform.
Please nominate a worthy charity for next month.
Nominate Your Favorite Charity for April Voting
Idaho Black Bear Rehab* 57%, 132 votes

132 votes 57%

57% of all votes

American Heritage Wildlife Foundation* 12%, 28 votes

28 votes 12%

12% of all votes

Village of Hope CDA* 12%, 27 votes

27 votes 12%

12% of all votes

All Heart Infusion* 9%, 21 vote

21 vote 9%

9% of all votes

Panhandle Animal Shelter 4%, 9 votes

9 votes 4%

4% of all votes

Family Promise of North Idaho 1%, 3 votes

3 votes 1%

1% of all votes

Cancer & Community Charities ("3Cs")* 1%, 3 votes

3 votes 1%

1% of all votes

AID NW* 1%, 2 votes

2 votes 1%

1% of all votes

Brave & Beautiful Blood Cancer Foundation* 1%, 2 votes

2 votes 1%

1% of all votes

Post Falls Little League* 1%, 2 votes

2 votes 1%

1% of all votes

Inland Northwest Honor flight* 0%, 1 vote

Big Table* 0%, 1 vote

North Idaho Younglives* 0%, 1 vote

North Idaho Young Life* 0%, 1 vote
Total Votes: 233
March 3, 2020
March 31, 2020
* - added by visitor
Voting is closed
Please note:
Voting results are calculated by third-party software. These votes are tracked by the device, not an email address. One vote per month, per device. A home computer, work computer, smartphone, and tablet would each qualify as separate devices.  The option to revote has been removed to reduce confusion. Any organization violating the one vote per month, per device policy or manipulating results in an unethical manner will be banned from the voting platform.
---
PREVIOUS CHARITY OF THE MONTH WINNERS
Grace & Cakes is a nonprofit that provides cakes to foster children on their birthdays. It was created in 2019 by a mom who loved baking birthday cakes for her children and was encouraged by her husband to begin donating birthday cakes to foster children. A love for the foster community began to grow and quickly it was a passion to help this amazing group of people using the gift of a birthday cake. It is lovely to see the joy a birthday cake can bring a child and believe this simple act of kindness will leave a lasting impact.
The average cost to produce a cake is around $80. Some cakes are more, some less depending on what the foster family wants for the birthday party. Grace & Cakes lets them choose the size of the cake they need in order to accommodate the number of guests they're expecting.
Grace & Cakes bakes and decorates all their cakes  – this is a hobby and passion of their co-founder, Lisa, and she loves making custom creations for these foster children to enjoy on their birthdays!
Grace & Cakes mission is to help a foster child feel precious, special and loved by providing custom and unique birthday cakes created with them especially in mind. Grace & Cakes accepts requests for cakes through their website
For over 40 years, Panhandle Special Needs (PSNI) has dedicated its resources to developing opportunities for people with disabilities living in Bonner and Boundary counties by providing quality services that maximize the economic and social integration of people with disabilities.
Through an array of services, they help people live, work and play more independently in their communities and pride ourselves for developing training programs based on individual needs, desires and input from those they serve.
Currently serving 80-100 clients per year, PSNI's array of services can be accessed individually or in combination to create a customized support plan that best meets the needs of the individual based on where that person lives, works and plays.
For more information visit http://panhandlespecialneeds.org/
Path of Hope Rescue's mission is to rescue pregnant dogs and puppies under six months old. They set them up for the best possible life by careful screening of adoptive homes, continuing education, resources and training incentives to keep dogs in the home–FUREVER. 
While they believe in saving every dog conceived, they focus on puppies and pregnant mamas from shelters with high euthanasia rates in the Southern United States. They spay and neuter every single dog they rescue to ensure that they do not contribute to the massive overpopulation that results in thousands of dogs euthanized every year across the country.
Every dog has transportation costs plus, they receive several rounds of dewormer, core vaccines, microchips, and are surgically altered before adoption.
Because of the harsh circumstances that many of the moms and puppies come from, many require extra supplements, special food, or additional medical care on top of their basic care. Several extreme medical cases included ectopic ureters, megaesophagus, and broken bones.
For more information on Path of Hope Rescue's adoptions or volunteer opportunities visit https://www.pathofhoperescue.com/
The mission of Mystic Farm Wildlife Rescue, Inc. is "to assist and support wildlife by providing shelter and care for orphaned and/or injured wildlife, rehabilitating such wildlife, and providing public education." 
Mystic Farm Wildlife Rescue, Inc. is located in beautiful North Idaho. Surrounded by acres of private farmland, timber service, and national forest, it is considered an ideal animal habitat. Proof of that is seen on a regular basis by ungulate sightings in the area. Mystic Farm is an excellent choice of area for "Rescue, Rehab, and Release" of wildlife back into the wild. The rehabilitation and release of orphaned fawns at Mystic Farm are setting precedence as a viable alternative to "putting down" or long term placement in human care. Research into orphan rehabilitation and release in recent years has proven remarkable strides. By following specific protocols, this goal is a reality.
Mystic Farm is fully licensed under the Idaho Department of Fish and Game. 
Orphaned fawns are not pets. If you find any wild animal – DO NOT TOUCH! Call Mystic Farm Wildlife Rescue at (208) 241-7081 or your local Fish & Game officer immediately. The situation will be assessed as to whether or not a rescue is warranted. Often times the mother is nearby and a rescue not necessary.
To succeed in being released back into the wild, orphans must not be handled or fed by anyone other than the primary caregiver. The baby will bond to and consider the caregiver his "mom" and will not associate other humans with food and affection. this is extremely important for the future safety of the animals, as well as any humans with whom they may come into contact after release back into the wild. Mystic Farm is operated solely by donations and volunteers.
Heath's Haven Rescue & Sanctuary is a home-based special needs rescue and sanctuary for dogs with neurological issues, spinal injuries, paralysis, and mobility issues. Heath's Haven takes in dogs that are at risk of euthanasia in shelters as well as private parties. Each dog is given access to a specialist and provided with any recommended diagnostics (MRI, spinal taps, X-Rays, blood work, etc.) and surgical treatment. The dogs are then rehabilitated with an individualized program of hydrotherapy, acupuncture, and/or physical therapy. Once the dog is physically stable and cleared by their specialist, they are provided with the opportunity to find their forever family, no matter how long it takes.

SPECIAL DOGS. SPECIAL NEEDS. SPECIAL HEARTS.
Heath's Haven is a small-but-mighty, home-based rescue and sanctuary run by Jolene & Shawn. The dogs are cared for in a home environment from the moment they arrive until the day they are adopted by their forever family. Heath's Haven also provides a forever sanctuary to hospice or severely medically challenged canines. These dogs are provided a safe and healthy home environment to live out the rest of their days with dignity and love. Because Heath's Haven is a small rescue, the appropriate time, care, and efforts can be provided to each individual animal based on their specific needs and requirements.
The dogs rescued by Heath's Haven are never transferred to other rescues and they are never euthanized unless their quality of life is poor or euthanasia is medically necessary. Heath's Haven takes pride in being committed to their special needs dogs from the moment they arrive at the rescue, until the moment they arrive in their forever homes. It is well known and understood that finding the perfect home for a special needs dog can take time, so the dogs are safe until that day arrives.
Dogs that are severely medically challenged and dogs requiring hospice care, live out the rest of their years as a sanctuary resident with dignity and love.
The name Rescue4All came to be as an adaptation of the last line in the Pledge of Allegiance "And justice for all" and this is the Rescue4All Pledge of Animal Allegiance: 'We pledge Allegiance to the animals, suffering from cruelty and neglect.  We are a refuge that exists to help you, to save you. One caring safe haven, enduring, with love and Rescue4All.'
R4A is a non-discriminatory, all-breed, megaesophagus & PRAA experienced, foster home-based, 501(c)3 non-profit, animal rescue located in Spokane, WA.

Rescue4All takes in dogs who are out of options. Virtually all of the animals that we take in are the souls that no one else is willing or able to. Our primary focus for Rescue4All is to save those animals that are in the shelter system with no other options and in danger of euthanasia. I believe animals deserve a second chance and the sole reason they are in shelters is that people have let them down. We provide safe, loving foster homes during their "in-between" time where they learn valuable life & social skills while we find their best suited forever family.
Rescue4All means that all breeds are welcome. We do not discriminate. R4A is here to help those that are injured, ill, have serious medical issues, genetic defects (like Megaesophagus or Epilepsy) or behavioral issues. From young to old, we will lend a hand and a safe place.
Rescu4All is a debt-free, fiscally responsible organization that is solely funded by public donations.
Learn more about Rescue4All at https://www.rescue4all.org/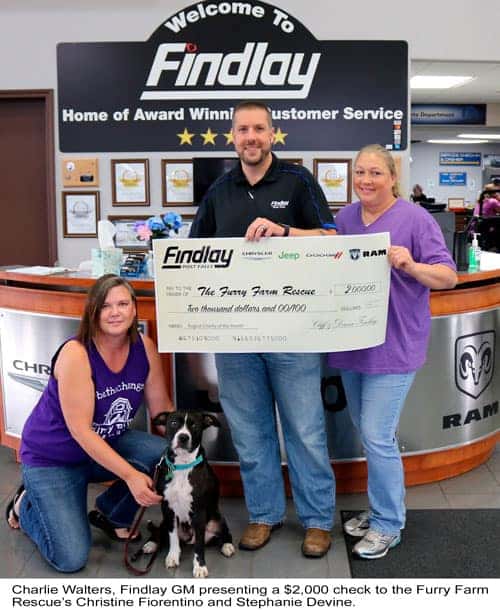 The Furry Farm Rescue is here in North Idaho for our Animals and our Community, established in October of 2017.  In almost two years and the farm has saved over 113 animals.  The farmhands are a group of volunteers, bringing 20 years of rescue and animal welfare expertise to form a family united in one mission: to reduce abandonment and euthanasia by providing a safe, structured, loving transition to a forever home.  As part of their mission, the FFR family endeavors to network with other animal welfare advocates positively and respectfully. Additionally, they work to provide resources, education, and support to the community without judgment.
The Furry Farm Rescue (FFR) is a foster-based rescue for cats, dogs and more. Without the dedication of caring, knowledgeable people, FFR would not be able to carry out its mission.  Fosters provide a structured, caring, and safe homes while FFR provides the medical care, food, and training support needed. If you'd like to join the FFR family, they are always in need of foster homes and volunteers! Please visit their website at thefurryfarmrescue.org to fill out a volunteer or foster application.
If you're interested in adopting one of FFR's amazing furry family members, the first step is to head over to thefurryfarmrescue.org.  There you will find all our available animals along with the application. You can follow them on Facebook or Instagram to learn about the work we do and our available animals. The Furry Farm is a registered 501(c)(3) and believes in full transparency, please look at their background at https://www.guidestar.org/profile/82-2995314 for more information on how your donated dollars are put to work.
The Panhandle Autism Society (PAS) is a chapter of the Autism Society of America.
Headquartered in Coeur d' Alene, they serve the five northern counties of Idaho. They are governed by a volunteer Board of Directors and funding comes from donations, fundraising events, and foundation grants.
What is Autism?
Autism is a complex developmental disability that typically appears during the first three years of life and affects a person's ability to communicate and interact with others. Autism is defined by a certain set of behaviors and is a "spectrum disorder" that affects individuals differently and to varying degrees. There is no known single cause of autism, but increased awareness and funding can help families today.
Resources
Most of their calls come from families that have just received an Autism diagnosis for their child and are seeking to understand what is available and how they can access services. Panhandle Autism Society also provides information through workshops and participating in other events. They offer training for families and professionals. There are so many different options for therapy and treatment that it can be difficult to keep up on all of the latest information. They provide quarterly training opportunities that allow families and professionals to continue to learn about Autism Spectrum Disorders and how some therapies and interventions may help support the individuals they care for. Their training fulfills a portion of the annual professional development requirements for professionals in Idaho.
The Panhandle Autism Society also has a lending library, which includes sensory materials, books, and DVDs.
For more information on the Panhandle Autism Society visit https://www.panhandleautismsociety.com/
Double J Dog Ranch is a special place, located in beautiful Hauser Lake.  They are the Inland Northwest's premier sanctuary and re-homing center for dogs with special needs.  At DJDR, Their focus is on the unique needs of each dog. This includes specialized vet care, training, therapies, acupuncture, end of life care and nourishing their souls.
Cristene Justus is the founder of Double J Dog Ranch, Inc.  She shares her 50 acres and home in Hauser Lake, Idaho with the animals.  The dogs experience a home environment vs. institutional living.  They receive care from a dedicated team of professionals, including health care, nutrition, and behavior.  DJDR are firm believers that to help ensure the successful placement of blind or deaf dogs they must be trained in basic obedience.  Therefore, all of the dogs are trained in the appropriate manner (hand signals or touch) prior to being adopted.
At Double J Dog Ranch they only accept dogs with special needs into our program.  However, they do not focus on their disabilities or hardships.  They choose to celebrate their abilities and happily ever afters!   Special needs dogs are perfect in every way that matters, after all, they don't know they are any different.
If you are interested in adopting a special needs dogs, please send them an email or give them a call, they welcome the opportunity to talk about the dogs!  Download an adoption application and complete the form.  Please note that they require a fenced yard and you must be at least 25 years of age to adopt a dog from DJDR. 
For more information contact Double J Dog Ranch
Sleep in Heavenly Peace, Inc. (SHP) is a 501(c)3 Charitable organization founded in 2012 that builds bunk beds for local children, ages 3-17, who are sleeping on floors, couches, and other uncomfortable situations without beds. The local Spokane Chapter has been active since September 2017 building and delivering over 200 beds to date to local children in need. SHP is comprised of volunteers dedicated to finding those young children living without the luxury of sleeping on a bed or even laying their heads on a pillow. Through the wonderful efforts of our volunteers and generous donations, bunk beds are built, assembled and delivered to those children who are otherwise sleeping on couches, blankets or even floors. Their mission statement, "NO KID SLEEPS ON THE FLOOR IN OUR TOWN!" ensures that our local children have a bed to sleep in.
Many agencies, government, state, and non-profit, are designed to assist with food, shelter, healthcare, etc. However, no agency is tasked with providing beds for children. This is where Sleep in Heavenly Peace comes in. SHP is the only charity providing hand-made bunk beds to children who don't have beds of their own. They deliver these beds, equipped with mattresses, sheets, pillows and a blanket to kiddos in need, they also partner with organizations, churches, businesses, and individuals to build them at events called "Build Days!" Sleep in Heavenly Peace schedules events called "Build Days" where the construction of the beds are done. Starting with a pile of wood, drills, sanders, saws and paintbrushes, bunk beds are completed from a simple design that takes no woodworking experience to learn. During these Build Days, experienced volunteers show and teach other volunteers the different stages of the construction process. Following each build day, volunteers help deliver the beds to local families that requested and qualified for a one. Additionally, Build Days facilitate community engagement by providing a fun and practical opportunity to volunteer their time.
For more information on volunteer opportunities, donating or sponsoring, and upcoming events, please visit our website at www.shpbeds.org or the local Spokane Chapter Facebook Page https://www.facebook.com/SHPSpokane/ or contact Jan Spackman, local Chapter President via email at jan.spackman@shpbeds.org
In 2016, Team Hoyt Coeur d' Alene was created in the shadow of the famed running and triathlon duo of Dick and Rick Hoyt. Team Hoyt is a nonprofit organization that emphasizes inclusion, opportunity, and love. It is life changing and all about saying "Yes You Can"! The team is made up of rider athletes and pusher athletes.
Rider Athletes
For the Rider Athletes, the experience is an opportunity they may never have had. Most have not been able to be part of a team or to participate in community activities such as a local road race. Now they are out in the fresh air and sunshine, running, and being cheered on by their team and spectators at the race. People are cheering for them! For many, it is an experience that allows them to feel just like everyone else. Team Hoyt provides the opportunity for this to happen.
Pusher Athletes
For the Pusher Athletes, the experience can be life-changing as well. Many of our pushers have competed alone in many races and for many years. Comments and reactions from the first-time pushers are frequently that "this was the most fun I've ever had at a race".  Many of our pushers feel a renewed sense of joy in racing now that they are with their Team Hoyt rider athlete.
No Cost
"Through generous donations received from our wonderfully supportive North Idaho community, we will continue to open our hearts and loan our legs to those who want to be a part of our team." There's is no cost for the special needs athlete at any time. Our 100% volunteer organization supplies all equipment, clothing, entry fees, and if the athlete doesn't have a friend or family member who runs we supply a runner teammate. The races are fun and the bond lasts forever.
Anyone with a disability is encouraged to join the team for the running, for the camaraderie, and for the fun! All ages and all types of disability are welcome.
"Together the two are so much greater than two separate parts." Yes, You Can!"
---
Camp Journey is a camp providing a community of hope for children and their families touched by cancer.  Dealing with childhood cancer can sometimes make "just being a kid" seem out of reach—and out of scope for the whole family.
At Camp Journey, their goal is to change that perception and that reality. In this nurturing, medically supervised home-away-from-home, young cancer survivors can leave their worries behind for one magical week and immerse themselves in a fun-filled outdoor camp experience tailored expressly to their needs. Meanwhile, their families and caregivers can rest easy, knowing that trained oncology staff is on-site 24/7.
Resident Camp
Activities: Swimming, beach games, Arts & Crafts, hikes, singing, campfires, special theme-related activities, and even a nap!
A child diagnosed with cancer in active cancer therapy.
A child who had a bone marrow transplant (BMT) or stem cell transplantation (SCT).
A child who has completed cancer therapy.
A sibling of a child attending camp diagnosed with cancer (on or off therapy) or who had a BMT or SCT.
A friend of a child attending camp diagnosed with cancer (on or off therapy) or who had BMT or SCT.
A sibling who has attended camp in the past, who lost their brother or sister within the past 2 years, can attend camp for one year.
A child from Eastern Washington, Northern Idaho, and Western Montana.
Day Camp
Day Camp is a separate program from Resident Camp.  Day Camp is for cancer survivors only (no siblings/friends).  Programming is designed specifically to meet the needs of these young ones and staffing is provided to accommodate them one-on-one as needed.
A child diagnosed with cancer in active therapy.
A child who had a bone marrow transplant (BMY) or stem cell transplantation (SCT).
A child who has completed cancer therapy.
A child from Washington, Northern Idaho, and Western Montana.
No Cost
With roots dating to 1985, Camp Journey is a no-cost resident and day camp for children diagnosed with cancer, both on and off therapy. The camp gives these children the opportunity to spend a week in the outdoors, participating in typical camp activities while making friends with others who understand and share their situation. Along the way, they develop independence and confidence, learn new skills, and make memories to last a lifetime. The generous donations from caring individuals, organizations and foundations make this unique camp available without cost to campers and their families.
Volunteers
Volunteers are recruited, carefully screened and attend special training specific to this camp.     Ensuring the safety and health of the campers is our top priority.  To apply to be a  volunteer go to app.campdoc.com/register/campjourney.
---
All Heart Infusion is a nonprofit nursing organization located in Spokane, WA. Founded in September of 2017 in response to the immediate need in our community for expert home infusion nursing. All Heart Infusion provides care to all those in need regardless of their ability to pay.
Over 100 Years of Combined Experience
While they are a new organization, their nurses have over 100 years of combined experience in infusion nursing and over 80 years of combined experience in pediatric nursing. Infusion nursing is a specialty and deals specifically with intravenous care. In many cases their patients have some form of a central line, allowing direct access to their heart, while also requiring a great deal of care to ensure the line stays clear of infection. These techniques are then shared with caregivers, whether that be a mom, dad, loved one or the patient themselves. Their nurses travel up to 200 miles outside of Spokane and into Idaho to visit their patients, oftentimes once a week.
Charity Care Program
It is through their Charity Care program that they fulfill their mission. Through this program, they are able to provide the highest quality of care free of charge to patients who are uninsured, underinsured, or have no coverage for our care with the many of them falling below the federal poverty level. In 2018 their nurses provided more than $120,000 of charity care to the people of the Inland Northwest.
All Heart Infusion is always in need of volunteers if you are interested in jumping on board visit our website, then fill out our volunteer application.
"We lead with our hearts, we care with our hearts – because we are All Heart Infusion!"
---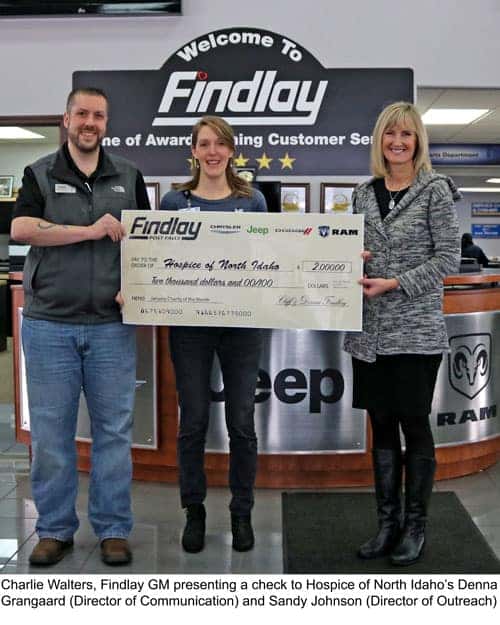 Hospice of North Idaho has the area's only pre-hospice Palliative Care Program. Families who started our services earlier in their journey said they felt more prepared, that they had time to say goodbye, and that their loved one was at ease.
IN-HOME, HOSPICE CARE – Wherever You Call "Home"
Develop a unique plan for meeting personal goals and wishes. Whether in a residence or a skilled nursing facility, our staff offers holistic support for patients, families, and caregivers along the journey. Choose from any of our specialty-care and volunteer services.
PALLIATIVE CARE
Receive pre-hospice, palliative care in-home or the place you call home while maintaining your choice of a health care team and medical treatments.
SCHNEIDMILLER HOUSE
Built in 2011, the Schneidmiller House began from the community's vision. North Idaho needed a place of comfort care when with 24-hour nursing support is needed, and where families experience a peaceful home-like setting as an alternative to a hospital setting.
RESPITE CARE – AT THE SCHNEIDMILLER HOUSE
Family caregivers find added support for their efforts with respite care. Ask your Hospice Nurse about getting expert nursing care for your loved one for up to 5-days per month at the Schneidmiller House.
SUPPORTIVE CARE
Supportive Care includes social work, counseling, grief and loss, spiritual care and volunteer support.
LEARN MORE