Community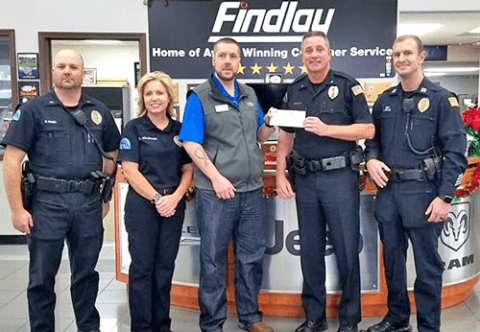 ---
Findlay Chrysler Jeep Dodge Ram is very active in the community
A portion of every new vehicle sale is put directly back into the local community through a monthly charity donation. Every month we will donate $2000… any additional money we raise through our new vehicle sales will be donated during the holiday season when charities need it the most.
HOW IT WORKS:
This year we are asking for your help to partner with 12+ organizations. Each month you can help us select a worthy charity in our community and we will donate $2,000.00.
HOW CAN I HELP:
Please take a moment and vote for your favorite organization and please help by nominating one for next month. Each organization can win once per year but can be nominated multiple months before winning. Be sure to let the organization know you nominated them and share this page on social media.
Help us decide. Who is your favorite?
Please Vote for Findlay Charity of the Month for January

Please nominate a worthy charity for next month.
Nominate Your Favorite Charity for February Voting