Community
A portion of every new vehicle sale is put directly back into the local community through a monthly charity donation. Every month we will donate $2000… any additional money we raise through our new vehicle sales will be donated during the holiday season when charities need it the most.
HOW IT WORKS:
This year we are asking for your help to partner with 12+ organizations. Each month you can help us select a worthy charity in our community and we will donate $2,000.00.
HOW CAN I HELP:
Please take a moment and vote for your favorite organization and please help by nominating one for next month. Each organization can win once per year but can be nominated multiple months before winning. Be sure to let the organization know you nominated them and share this page on social media.
Here are the winning nominations for March 2019

Camp Journey is a camp providing a community of hope for children and their families touched by cancer. Dealing with childhood cancer can sometimes make "just being a kid" seem out of reach—and out of scope for the whole family. In this nurturing, medically supervised home-away-from-home, young cancer survivors can leave their worries behind for one magical week and immerse themselves in a fun-filled outdoor camp experience tailored expressly to their needs. Meanwhile, their families and caregivers can rest easy, knowing that trained oncology staff is on-site 24/7.   With roots dating to 1985, Camp Journey is a no-cost resident and day camp for children diagnosed with cancer, both on and off therapy. http://rosspoint.org/camp-journey (Vote Below)
---

When a child is diagnosed, the family is diagnosed. The mission of the Anna Schindler Foundation is to support families fighting childhood cancer in the Inland Northwest and raise awareness of this disease. We assist every family that has a child diagnosed in the area. Each family receives meal cards while in-patient at the hospital. We endeavor to defray travel, grocery, medical, living and even burial expenses that is incurred because of a sick child.  Our goal is to lighten the load for every childhood cancer family.  http://annaschindlerfoundation.org/ (Vote Below)
---

Ds Connections Nw is a network of support, information, and resources for everyone! They provide a single point of connection for people with a Ds diagnosis, their families and the community at large. With diverse social and informational opportunities, networking with key members of their professional and medical community, they strive to improve the quality of life of persons with Down syndrome. http://dsconnectionsnw.org/ (Vote Below)
---
Help us decide. Who is your favorite?
Please Vote for Findlay Charity of the Month for March

Please nominate a worthy charity for next month.
Nominate Your Favorite Charity for April Voting
---
PREVIOUS CHARITY OF THE MONTH WINNERS
All Heart Infusion is a nonprofit nursing organization located in Spokane, WA. Founded in September of 2017 in response to the immediate need in our community for expert home infusion nursing. All Heart Infusion provides care to all those in need regardless of their ability to pay.
Over 100 Years of Combined Experience
While they are a new organization, their nurses have over 100 years of combined experience in infusion nursing and over 80 years of combined experience in pediatric nursing. Infusion nursing is a specialty and deals specifically with intravenous care. In many cases their patients have some form of a central line, allowing direct access to their heart, while also requiring a great deal of care to ensure the line stays clear of infection. These techniques are then shared with caregivers, whether that be a mom, dad, loved one or the patient themselves. Their nurses travel up to 200 miles outside of Spokane and into Idaho to visit their patients, often times once a week.
Charity Care Program
It is through their Charity Care program that they fulfill their mission. Through this program, they are able to provide the highest quality of care free of charge to patients who are uninsured, underinsured, or have no coverage for our care with the many of them falling below the federal poverty level. In 2018 their nurses provided more than $120,000 of charity care to the people of the Inland Northwest.
All Heart Infusion is always in need of Volunteers if you are interested in jumping on board visit our website, then fill out our volunteer application.
"We lead with our hearts, we care with our hearts – because we are All Heart Infusion!"
---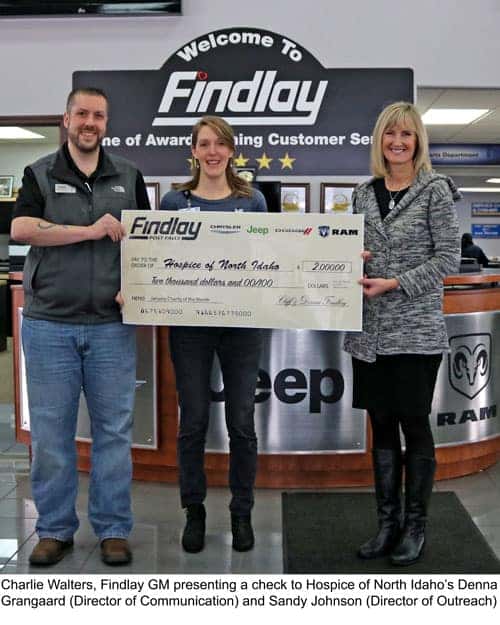 Hospice of North Idaho has the area's only pre-hospice Palliative Care Program. Families who started our services earlier in their journey said they felt more prepared, that they had time to say goodbye, and that their loved one was at ease.
IN-HOME, HOSPICE CARE – Wherever You Call "Home"
Develop a unique plan for meeting personal goals and wishes. Whether in a residence or a skilled nursing facility, our staff offers holistic support for patients, families, and caregivers along the journey. Choose from any of our specialty-care and volunteer services.
PALLIATIVE CARE
Receive pre-hospice, palliative care in-home or the place you call home while maintaining your choice of a health care team and medical treatments.
SCHNEIDMILLER HOUSE
Built in 2011, the Schneidmiller House began from the community's vision. North Idaho needed a place of comfort care when with 24-hour nursing support is needed, and where families experience a peaceful home-like setting as an alternative to a hospital setting.
RESPITE CARE – AT THE SCHNEIDMILLER HOUSE
Family caregivers find added support for their efforts with respite care. Ask your Hospice Nurse about getting expert nursing care for your loved one for up to 5-days per month at the Schneidmiller House.
SUPPORTIVE CARE
Supportive Care includes social work, counseling, grief and loss, spiritual care and volunteer support.