Join Findlay in supporting Holidays & Heroes 2019.
Findlay Chrysler Jeep Dodge Ram is a major donor to this awesome program and they can use everyone's help to reach more families in need.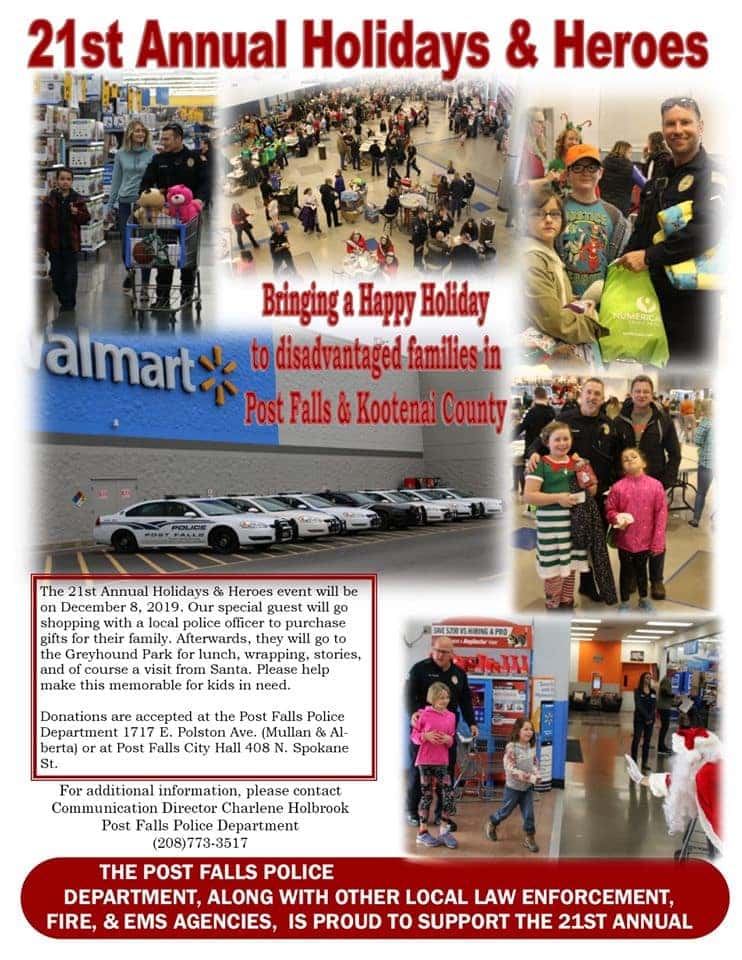 This year's event will be held at the Post Falls Greyhound Park and Event Center on Sunday, December 8th, 2019.
Each year First Responders across Kootenai County join together and volunteer their time to make this event special and are happy to work in partnership with businesses, civic groups, and citizens in the surrounding areas to make a disadvantaged child's Christmas a little bit brighter.
The event begins with the children being paired with a uniformed police officer or firefighter and then driving in a patrol cruiser, fire truck, or other emergency response vehicle to the Post Falls or Hayden location WalMarts. Each child is given an allowance in the form of a gift card to purchase gifts for their families, which they otherwise likely may not receive. Meanwhile, 'secret shoppers' purchase gifts for the sponsored child to be surprised with.
While the children are meeting with Santa and eating lunch, volunteers wrap their presents and prepare a large food basket, which includes all the fixings for a traditional holiday meal, for the child and his or her family. At the end of the afternoon officers and firefighters load children back into their vehicles and deliver them, their gifts, and their food baskets back to their families.
Over the last 21 years, Holidays and Heroes has been a joyful experience for the kids involved and has helped to foster healthy, positive relationships between kids and law enforcement throughout the region. We hope that it is even bigger and better this year with the continued support of our community.
'Holidays and Heroes' is now accepting cash donations and food items that can be dropped off at the Spokane County Sheriff's Office at 1100 W. Mallon Avenue and the Valley office at 12710 E. Sprague, Post Falls Police Department at 1717 E. Polston Ave., Kootenai County Sheriff's Office at 5500 N. Government Way, Rathdrum Police Department at 8178 W. Main St., the CDA Police Department at 3818 Schreiber Way, and Kootenai County Fire & Rescue Administration Office at 1590 E. Seltice Way.
Citizens are asked to make a food or cash donation at upcoming food drive events in Spokane and Kootenai County where police and fire departments will be participating. For more information, please contact Charlene Holbrook, Post Falls Police Communications Director, at 208-773-3517.