First Responder Discount

$500 JEEP® FIRST RESPONDERS BONUS CASH
(Also applies to Chrysler, Dodge, and RAM brands)
To honor our emergency responders, whether law enforcement, fire, or EMTs, the Jeep® Brand is offering a $500 discount( Disclosure1) on select 2021 and 2022 vehicles. Just present your qualifying documentation when purchasing or leasing an eligible vehicle at an FCA US LLC dealer. Depending on the vehicle you choose, you may be eligible for even further deals, so talk to your dealer today.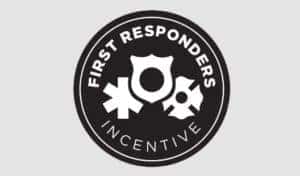 WHO IS CONSIDERED A FIRST RESPONDER?
First responders fall into three categories: law enforcement, fire, and EMTs. The law enforcement personnel who are eligible for the discount include police officers, sheriffs, and their deputies, correctional officers, state troopers, and federal law enforcement officers. Eligible fire service personnel include career and volunteer firefighters. The medical staff who qualify for the discount are EMTs and paramedics.
In certain cases, spouses of first responders are also eligible to participate.
---
JEEP® FIRST RESPONDERS INCENTIVE FAQ
WHAT JEEP® DEALERSHIPS OFFER FIRST RESPONDER DISCOUNTS?
All franchised FCA US LLC dealers are eligible to participate in the First Responder Incentive program.
HOW DO FIRST RESPONDERS GET THEIR DISCOUNT?
All eligible personnel must present qualifying documentation that clearly reflects their eligibility status to a franchised FCA dealer in the United States at the time of retail purchase or lease of an eligible vehicle.
Qualifying documentation includes a copy of currently employed Police Officers', Firefighters' and EMTs Earnings Statement (a pay stub), a Lifetime Membership certificate or an Accountability Tag.
DO FIRST RESPONDERS GET DISCOUNTS ON ALL JEEP® BRAND VEHICLES?
The offer is valid on 2022 Jeep Wagoneer and Grand Wagoneer vehicles and select 2021 Jeep® Brand vehicles, excluding Gladiator Rubicon, Gladiator Mojave, Wrangler Rubicon and Wrangler 4xe models.
DOES THE JEEP® BRAND OFFER FIRST RESPONDER DISCOUNTS?
Yes, the Jeep® Brand offers a First Responder Incentive to eligible Police/Law Enforcement Officers, Firefighters, and EMTs.
HOW MUCH IS THE JEEP® FIRST RESPONDER DISCOUNT?
Eligible First Responders will receive $500 off the purchase or lease of select Jeep® Brand vehicles.
This is a great opportunity for any qualifying individual to purchase at the lowest possible price available from our company.