Jeep Compass vs. Chevy Blazer

At a Glance: Compass vs. Blazer
Your next SUV should be a reflection of you. It should be the perfect blend of brawn, brains, and beauty. It should be as versatile and flexible as you. It should be everything you need it to be and do everything you need it to do. Does such an SUV exist? Yes! Meet the 2022 Jeep Compass and the 2022 Chevy Blazer.
Our Findlay CDJR sales team knows you deserve the best, which these SUVs can offer in spades. So, if you're a Post Falls, Huetter, or State Line driver looking to make your dreams reality, continue reading the Compass vs. Blazer comparison below.

See the Difference for Yourself
Design
The design of your next SUV matters. You want a model that provides plenty of opportunities. You want a model that has curb appeal. Better yet, you need a model that serves you in all the best ways. Which one will do that for you: the Compass or the Blazer?
Choose Your Cruiser
When comparing trims, the Jeep offers six trim levels, while the Chevy offers four trim levels:
Jeep Compass Trims:
Sport
Latitude
Latitude Lux
Limited
Trailhawk
High Altitude
Chevy Blazer Trims:
Although both SUVs have special edition trims to boost their rosters, it's the Jeep Compass that offers more standard trims. Having two additional trims gives you more ways to meet your on-road needs.
4-Wheelin' Fun
Both the Compass and the Blazer are offered with several different wheel sizes, which function for both purpose and aesthetics. Furthermore, their wheels were meant for driving, and that's just what they'll do. In fact, both SUVs come standard with front-wheel drivetrains!
Both models also offer an available drivetrain; however, the Jeep's may prove to be more capable and useful out in the wild. The Compass' available 4-wheel drive helps you feel confident tackling all types of terrain, inclement weather, and more. The Chevy's available all-wheel drive is great for added stability but may be more useful for on-road traveling.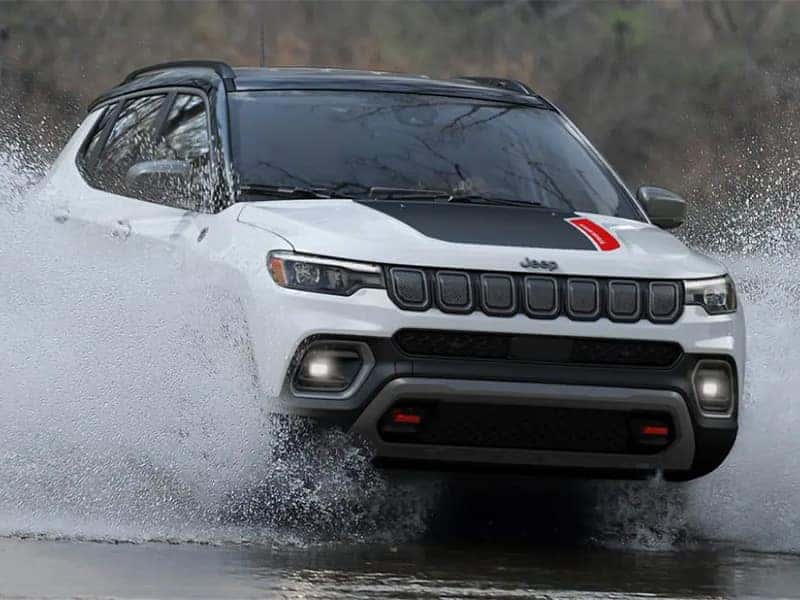 Performance
You don't like to be put inside of a box, and neither do the Jeep Compass and the Chevy Blazer. These two models are fit for any adventure you have in mind. Which SUV will take you far and wide, though?
Make Moves
The Jeep and the Chevy will adapt to your surroundings with their comparable drive mode select systems. The Selec-Terrain® Traction Management System on the Compass offers Auto, Rock, Snow, and Sand/Mud modes, helping you master both the off-roads and the city streets.
The Chevy's similar Driver Mode Selector system offers similar modes, including Tour, AWD, Tow/Haul, Off-Road, and Sport. Of these five modes, only Tour and Sport come standard with the system.
Enjoy Efficient Travels
Thanks to their similar driving systems, these SUVs can take you out and about with ease. How about taking you for the long haul? Well, both the Jeep and the Chevy offer up to an EPA-estimated 22 city MPG rating. So, if you work in town or often commute to the city, you'll drive efficiently in either model.
However, when it comes to highway hauling, the Jeep's EPA-estimated 31 highway MPG outdoes the Chevy's EPA-estimated 29 highway MPG rating. Those two additional miles will help you venture farther and explore new routes longer.
Interior
What you experience in the Jeep Compass and the Chevy Blazer is stable sailing and robust rides. What you get inside these SUVs is premium refinement. Both models have high-tech and comfortable cabins to help you make the most out of the long haul.
An Easy Connection
In the Chevy Blazer, you'll have an 8-inch touchscreen display as your right-hand man. The Jeep Compass offers an 8.4-inch display. Either display will help you clearly see your infotainment and navigation. However, this is the only screen size offered for the Chevy. On the other hand, the Jeep offers an available 10.1-inch display!
Same goes for their instrument clusters. The Blazer is available with an 8-inch Driver Information Center, which is impressive. However, your vital vehicle information will look larger than life in the Compass thanks to its available 10.25-inch digital cluster display.
Cozy Cabins
Along with their connectivity features, these models also prioritize your comfort. Whether you live in a chilly climate or often commute in the early morning or after dark, the available heated front seats and heated steering wheel in these SUVs will keep you and your copilot cozy.
Your rear-seat passengers can also get in on the action with available heated rear seats in the Jeep Compass! Unfortunately, a similar amenity is unavailable in the Chevy Blazer.